Skip text – go straight to the images
A friend recently pointed out that Andy Beel was running an infrared (IR) photography workshop at Stourhead on 11 September. As a relative newcomer to infrared photography, I decided to sign up for two reasons:
To get hints and tips from someone with more experience in this genre
To force myself to devote a whole day's shooting to infrared
Andy limits attendees to a maximum of four people and charges a reasonable price for the workshop. By chance, I bumped into Andy the day before the workshop (at FotoFest) and discovered I was the only participant. In the event, a lady named Fay had signed up at the last minute, which was great, providing someone else to bounce ideas around with.
On the morning of the workshop, the weather forcast suggested there would be a couple of periods of showers mixed with  partly sunny/partly cloudy periods. As I drove to Stourhead, however, the majority of the journey was through heavy, sometimes torrential rain and it seemed like the day might be a washout. It eased off a little as I approached the site and the day ended up being a mix of light, occasionally heavy, rain interspersed with sun throughout the whole day. This actually worked out well as there was a good mix of different lighting conditions to work with.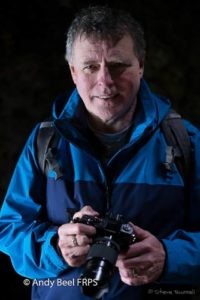 After a brief introductory chat about IR over a cup of coffee, the three of us set off for the day's shooting. While guiding us around the site, Andy threw in suggestions for locations and angles, having familiarised himself with the site previously. There wasn't a lot of technical discussion – Andy's focus was more on the tonal effects of shooting IR and what makes good subjects for the IR treatment. No doubt he could provide the necessary help and information to anyone just getting started in IR.
Overall, I thoroughly enjoyed the day and went home quite tired – and a bit damp – after spending six hours (with a break for lunch) walking around the site taking pictures. A big thank you to Andy and Fay for making the day such fun.
If you haven't been there, Stourhead is a National Trust property and is quite stunning – I'll be going back with a normal camera soon!
All images are copyrighted – please contact me for usage details